After many hours of work, the puppet theatre performance by the pupils of the Hainburger Straße secondary school celebrated its premiere on 27 June 2022 in the festival hall of the Landstraße district council. A complete success!
Many hours of rehearsals were scheduled in the two weeks before the performance. After initially rehearsing in a classroom, the final rehearsals could take place in the LILARUM after the end of the theatre season. The atmosphere in a real theatre space motivated the students even more.
On the day of the performance, the LILARUM technical team started early in the morning with the set-up work in the festival hall, which lasted all morning. At noon, the dress rehearsal took place, during which the excitement and tension could already be clearly felt.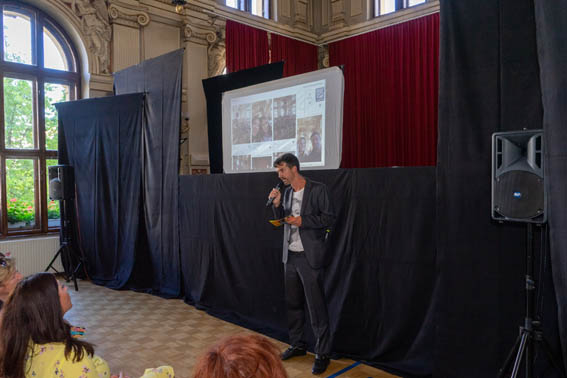 Among the guests at the performance were Eva Blimlinger, who also addressed the audience in a short speech, and Kai Jan Krainer, two members of the National Council. Also present were several district councillors, first and foremost the chairperson of the district cultural commission, Ema Dumani, who also addressed the audience. Unfortunately, due to an important meeting of the municipal council taking place at the same time, no members of the municipal council were able to attend, but we received many encouraging emails expressing regret that they could not be there. Martina Schmidt, a representative of the OeAD, the agency that supervises and manages Erasmus+ projects in Austria, was present. She also spoke briefly to the audience. Andreas Moritz, the moderator, led the audience through the blisteringly hot summer evening.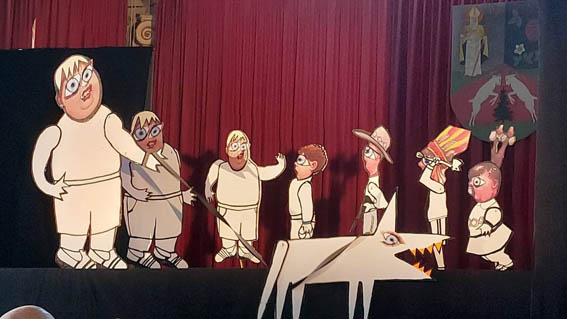 The performance was divided into five scenes. At the beginning, some students came into the hall, their faces hidden behind oversized eyes. These symbolised fictitious eyes that, starting from the Hainburger Straße secondary school, inspected the situation of democracy and human rights in the district. Subsequently, four scenes developed by the students themselves were shown, dealing with different topics – from racist abuse in public transport to environmental pollution and youth gangs in the park.
At the beginning, you could see the tension in the students' faces, but in the end they played the play with confidence. They received great applause and cheers for their performance and were visibly relieved and proud to have made it. Praise came from the visibly moved headmistress Lilijana Janoschek.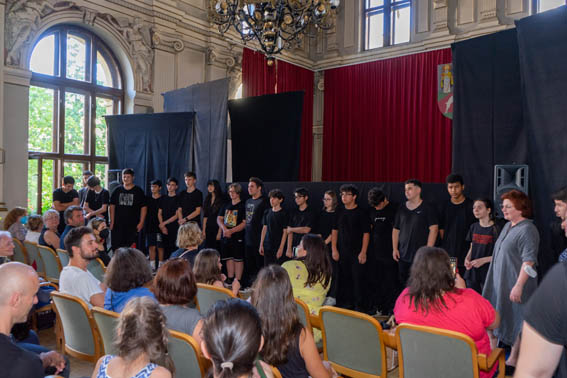 After the performance, the pupils of the partner school from Budapest showed their performance – translated into English especially for this occasion – in the theatre hall of the LILARUM. A large part of the audience took the short walk and was rewarded. The students of the Vörösmarty Gymnasium thrilled the audience with incredible energy and versatility. This guest performance was made possible by additional funding acquired by the grammar school in Hungary.